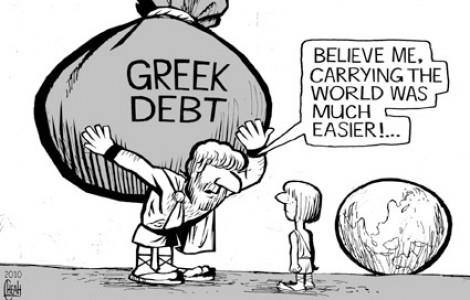 Here is some facts about the Greek Debt
The uncertainty over this week's payment to the IMF is just the latest episode of a multiyear tragedy for Greece and its creditors as they try to navigate a situation that has been managed too timidly for too long.
The biggest lenders to Greece are: the euro zone – 60%, the International Monetary Fund (IMF) – 10%, the European Central Bank (ECB) – 6%, Greek banks – 3%,Bank of Greece, 1% – foreign banks, 15% – other bondholders, 3% – other loans.
Having struggled to restore economic growth, and with an unemployment rate of 26 percent, Greece isn't generating enough revenue to meet all of its obligations.
Greece now has its hopes set on another meeting of euro zone deputy finance ministers on April 8-9, although it is unlikely that a deal could be reached by then.
Negotiations between Greece and its creditors over the next tranche of the country's bailout – worth more than €7bn – have stalled over disagreement about Syriza's economic reform plans.
Default or no default, Greece will be scrambling for cash unless it is revived by a fresh injection of bail-out cash soon.
After days of talks between officials representing Greece and its creditors about a list of economic reforms and proposals, euro zone finance ministry officials will discuss progress and the prospects for an agreement during a teleconference session on Wednesday afternoon.
Perhaps something good can come from Greece's debt disaster as it is clear evidence that changes are needed to ensure a healthy economy in the euro zone and for the euro to thrive.
Greece especially its successive governments and irresponsible politicians have been behind the feckless borrowing and now the Greek people have to bear the burden of irresponsibility, perhaps even criminal behavior, of their leaders.
 The new loans represented not a bailout for Greece but a cynical transfer of losses from the books of the private banks to the weak shoulders of the weakest of Greek citizens.
The repayment schedule on the country's €240 billion rescue package extends to 2054 and, of course, Greece has to also repay its other debt obligations.
Greek debt has been steadily growing as the nation has been subjected to harsh austerity, with the nation seeing an unprecedented contraction in its economic output with all the consequences of such a downturn.
The Greek government faces another crucial deadline in its interminable bail-out drama this week, as fears mount that the country could become the first developed nation to ever default on its international obligations.
The terms of Greece's existing bail-out programme stipulate that a default to the IMF would automatically constitute a default on the country's European rescue loans.
The worsening Greek debt crisis has reanimated talk within the ruling Syriza party of a snap general election if discussions with creditors fail, as the country faces a Thursday deadline to repay a €450m loan to the International Monetary Fund.
The Greek finance minister, Yanis Varoufakis, was scheduled to hold informal talks with the IMF's managing director, Christine Lagarde, in Washington DC on Sunday – 5 Apr 2015 – , while warnings of early elections underscored the political unrest in Athens. IMF Managing Director Christine Lagarde said in a statement after meeting with Varoufakis that she welcomed his confirmation that the loan payment due would be made on schedule.
Beyond this week's bill auction and the IMF repayment, Greece sees €1.4 billion of short-term Treasury bills mature on April 13, requiring the country to sell more debt to fund that, Rodriguez notes, while another €1 billion in notes matures on April 16.
Meanwhile, Greece's domestic socio-political context makes it difficult for the government to make payments to the IMF, especially as it struggles to pay salaries and finance basic social services.
Greece has not received any bailout funds since August last year, and the Syriza-led government has so far failed to convince its eurozone partners to dole out remaining funds in the bailout pot.
Although the exact process is uncertain, falling into a protracted arrears procedure could have major consequences for continued financial assistance from Greece's other creditors – the European Central Bank and European Commission.
"If Greece defaults to the IMF, then they are considered to be in default to the rest of the eurozone," says Raoul Ruparel, head of economic research at Open Europe.
Prime Minister Alexis Tsipras will visit Moscow next week, with Russia ready to discuss easing restrictions on Greek food products, according to Russian government officials.
Greece won't default on payments to the International Monetary Fund next week even as a lack of bailout disbursements has left government coffers nearly empty, according to the minister responsible for meeting the obligations.
"It is necessary to restore the Greek economy's funding flow," Labor Minister Panos Skourletis told the Greek Ependysi newspaper on Saturday, accusing the country's lenders of taking advantage of Greece's funding limits to add pressure on Athens.
The interior minister suggested last week the government would prioritize wages and pensions over the IMF payment, although the government later denied that was its stance.
The government is hoping approval of its reform proposals will free up the remaining aid of 7.2 billion euros (5.30 billion pounds) under its bailout and lead to the return of about 1.9 billion euros in profits made by the European Central Bank on Greek bonds.
The payment to the IMF wouldn't necessarily make it easier for Greece and its creditors to better work collaboratively to restore the country's growth and financial viability with the euro zone.
Since Tsipras took office, the chairmen of two of the largest banks, National Bank of Greece and Eurobank, have both been replaced with people who are close to the new government.
Russia's foreign minister Sergey Lavrov told his Greek counterpart in February that Moscow would consider a loan to Greece if the country asked for one – an offer repeated by the Russian ambassador to Greece last week in an interview with Greek newspaper Kathimerini.
The Prmie Minister of Greece will fly into Moscow today for talks with Russian President Vladimir Putin amid ongoing concern that the Mediterranean country will run out of money this month.
Alexis Tsipras' meeting had originally been scheduled for May, but has been brought forward, raising suspicions that Greece plans to gain funding from Russia or to use relations with the country as a bargaining chip with its Eurozone partners during bailout negotiations.
"While no member of the government admits to it publicly, the fostering of better relations with Russia is seen as a potential negotiating tool in relations between Greece and its lenders," said an analyst from Greek think tank Macropolis.
Greece is currently negotiating a short-term bailout extension that it doesn't really want, offered by European institutions which don't trust the Greek government and approved by other governments that are running out of patience.
Back in the worst days of the euro crisis, it was feared that banking and sovereign default in Greece would spread to other southern European countries, causing a domino effect.
But even if Greece gets the bailout deal when European finance ministers meet on April 24 (which isn't assured), we'll be back in the same place in about two months.
Related Posts
82

Facing a cash crunch, Greece is seeking to extend its bailout program with eurozone creditors before it expires on Feb. 28. Here's what Greece owes, when. Source : http://graphics.wsj.com/greece-debt-timeline/

78

Here is what you need to know now as Greece enters a pivotal week in its testy relationship with the Eurozone: 1.       Greece's most immediate – as in first thing Monday morning – source of danger is its banking system. To compensate for accelerated deposit flight, the European Central Bank…

78

Greece is reeling from the effects of the biggest economic crisis in its recent history. Here are some statistics underscoring the severity of the crisis now reaching into all aspects of Greek life. 25% The Greek economy has shrunk since its peak in mid-2008. 25.8% Percentage of Greeks who remain out of…

75

Greek banks are running short on the collateral they need to stay alive, a crisis that could help force Prime Minister Alexis Tsipras's hand after weeks of brinkmanship with creditors. As deposits flee the financial system, lenders use collateral parked at the Greek central bank to tap more and…

71

Greece probably has until late July to come to an agreement with its creditors before potentially being forced out of the monetary union. Possible delays in payments to the International Monetary Fund in June shouldn't prompt the European Central Bank to shut off vital liquidity to Greek banks. By contrast,…